Every graduating junior high school student will be able to attend a state senior high school this academic year, an official of the Ho Chi Minh City Department of Education and Training said on Friday.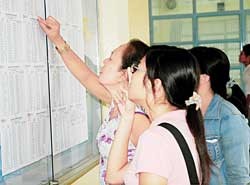 Students look at their entrance examination result at Luong The Vinh Senior High School
Referring to the nearly 3,000 children whose scores in the senior high entrance examination were too low for their school of choice, Deputy Director Nguyen Van Ngai said the 1,688 students who had scored above 30 would be given places in their home districts or at schools where a low mark in the entrance examination was enough to get in.
His department will decide which student goes to which senior high school to get around the problem of school authorities demanding that parents hand over money as a "contribution to supplies" in return for enrolling their kids.

Mr. Ngai stressed that there would be enough places in state schools for all students.  A list of students and their designated senior high schools is available from today at education department offices and the website: www.hcm.edu.vn

Places for the other 1,121 students whose scores in the entrance exam were too low will be made available at the state senior high schools Long Thoi, Long Truong, Han Thuyen, Thu Thiem, Vinh Loc, Thanh Loc, Nam Sai Gon and Sport.
Related article:
Fighting for a Place at Senior High School