Exemplary girls from 24 ethnic minority groups all over the country gathered in the UNESCO-recognized natural heritage site of Hoi An, from August 3-5, for the launch of the Brighter Path scholarship program.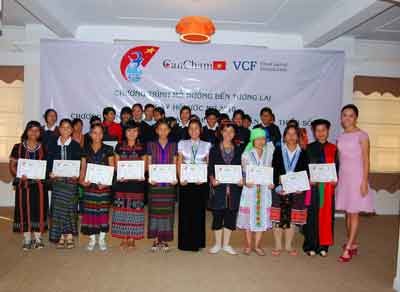 Ethnic minority girls and former Miss World Vietnam Duong Truong Thien Ly at the ceremony (Photo: Coutersy of VinaCapital)
The scholarship program is a collaboration between the Vu A Dinh scholarship organization and the VinaCapital Foundation (VCF). It will support these students through three years of high school and four years of college.
The program launch began with the first annual "Dream Meeting," which consisted of series of workshops to mentor and encourage the girls to have big dreams and goals and give them the tools to succeed. The girls were also treated to fun outings to ancient Hoi An town and My Son.
The meeting was held at the Hoi An River Beach Resort and attended by former Vice-President of Vietnam and Chairwoman of Vu A Dinh, Madame Truong My Hoa; VCF's CEO and Executive Director Robin King Austin; and others.
The VinaCapital Foundation (VCF) and Vu A Dinh are proud to partner on this innovative partnership to help educate ethnic minority girls, one of the most disadvantaged groups in Vietnam.  An initial donation of $13,500, which will fund the first year of scholarships for the 50 girls, was provided by the Canadian Chamber of Commerce in Vietnam (CanCham), and was matched 100 percent by the VinaCapital Group.  The Golden Light Investment Trading Company is also donating one percent of their annual sales to support the scholarship program.
 
A Brighter Path is designed to provide hope for a brighter future and to break the poverty cycle for ethnic minority girls in Vietnam.  To be eligible for the program, all students must be members of one of Vietnam's ethnic minority groups, have demonstrated academic excellence, and come from families living at or below the national poverty line ($13 per capita per month).