Viet Nam Electricity (EVN) plans to sponsor students with a monthly stipend of US$200 per month to study nuclear technology in Russia.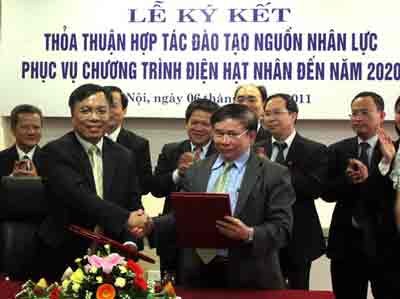 Bui Van Ga (1R in front) and EVN Deputy Director DInh Quang Chi at the signing ceremony (Photo: GD Thoi Dai)
This is part of a commitment between EVN and the Ministry of Education (MOET). Both sides signed a cooperation agreement for training personnel in the field of nuclear technology on April 6 in Hanoi.
Under the agreement, MOET and its associate agencies will annually select 30 capable staff members and students to study for the master training in atomic energy in the Moscow Engineering Physics Institute (MEPhI).
EVN will pay a monthly stipend of US$200 monthly to each student who will sign a contract to work for EVN after graduation. This course will provide future jobs at every level in the field of nuclear energy. It will also be valid in other countries across the globe.
MOET Deputy Minister, Bui Van Ga, affirmed at the signing ceremony that MOET would work closely with EVN to train a highly skilled workforce to serve the country's future nuclear power plants.
In related news, the Under Secretary of Commerce and 56 American colleges and universities visited Ho Chi Minh City on April 6 and Hanoi on April 7-8, according to the U.S. Embassy in Vietnam. The purpose of the mission is to promote education exchange between Vietnam and the United States.
Francisco Sanchez, Under Secretary of Commerce for International Trade arrived at the laboratories of the University of Technical Education in Ho Chi Minh City. Entrepreneurs from the USA sponsored the laboratories.
Mr. Francisco Sanchez said that staff and students have utilized the laboratories effectively to serve their target for enhancing their practice skills.
As part of their visit, the U.S. Commercial Service in partnership with the Institute of International Education (IIE), will organize Education Fairs on April 8 in Ho Chi Minh City at the Rex Hotel on141 Nguyen Hue St. in District 1 and in Hanoi at the Melia Hotel on 44B Ly Thuong Kiet St.