The country's education sector is facing the paradox in which it badly lacks teachers while graduates struggle to find teaching jobs, a recent survey by Sai Gon Giai Phong found.
The shortage of teachers has been seen for the past few years.
For example, in the 2008-09 school year the average rate of teacher per class at high school level is just 1.98 compared to the required 2.25. Similarly, the number of primary teachers is just 86 percent of total needs, according to statistics of the Ministry of Education and Training.
In the new school year, many provinces and cities are still struggling with the chronic shortage of teachers.
In Ho Chi Minh City, to ease the serious lack of teachers, many pre-school teachers have had to assume teaching at the primary level.
In Hanoi, urgent recruitment of hundreds of teachers has been made recently to meet the needs of the school year.
Meanwhile, a good deal of graduates from the teachers' university and colleges cannot find a job.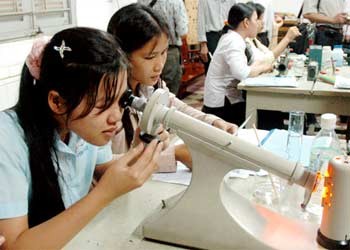 Students in a science lab at HCM City Teachers' Training University. To make it easier for graduates to find a teaching job, experts said the education sector must re-examine actual demand for teachers and then set up proper training plans. (Photo: SGGP)
Phan Thi Lieu, from the central Nghe An Province, is an example. She has not found a teaching job since she graduated from the Hue Teachers' Training University in 2008.
Failing to find a job in Hue, she and her husband left for Ho Chi Minh City, with the hope that she could became a teacher. But after she submitted applications, including private and international schools, the only answer she have so far received is "to wait and see."
"To make a living, I have had to take a job as a worker for a South Korean garment company, getting paid VND1.5 million per month, most of which is spent on rent," Ms Lieu said.
Similarly, Nguyen Thi Thom, from the northern Tuyen Quang Province, a graduate from Hanoi Teachers' Training University, has been working as an insurance agent for the past four years after failing to find a job as a literature teacher.
Many graduates have also complained that they are required to spend a lot of money in securing jobs as teachers, said Prof. Dinh Quang Bao, the former head of the Hanoi Teachers' Training University.
For instance, Ms. Thom said, "At every school I visited, I was asked to pay US$5,000 to be accepted. Where can I get such money?"
Besides this problem, many students have had to resort to social relationships to secure a job. Specifically, they must rely on influential people's help when they want to be accepted at certain schools.
Training must fit demand
To make it easier for graduates to find a job, some educational experts told Sai Gon Giai Phong that the sector must re-examine national demand for teachers so that they can map out proper plans for teachers' training.
In practice, there has long existed a paradox, in which the line-up of teachers is both insufficient and redundant, Prof. Bao said.
As compared to actual demand, it is not enough, while "redundancy" meant that many teachers are not included in list of regular teachers at schools, he explained.
Some schools have plenty of teachers for some subjects, while lacking teachers for some others, he added.
Except for some provinces and cities in need of teachers, many others have seen their demand saturated but recruitment has continued, leading to too many teachers, said Tran Xuan Mau, the deputy head of the Department for Teachers and Educational Administrators, under the Ministry of Education and Training.
Meanwhile, as Deputy Prime Minister and Minister of Education and Training Nguyen Thien Nhan put it, "mountainous areas and areas with disadvantaged conditions are badly in need of teachers."
The fact that teacher graduates face difficulty in finding a job partly comes from the inadequate forecast of demand for teachers at all educational levels, he added.
To improve the situation, all education and training departments must re-consider their demand for teachers and organize training at the request of potential employers within the next three years, he instructed.  
To ease the lack of teachers, particularly in remote and disadvantaged areas, incentive policies, including those on salaries, should be applied for teachers in such areas, said Prof. Dr. Tran Trung, the principal of the Hung Yen Technical Teachers' Training University.

Related article:
Low pay, few jobs hinder education sector