The first session of this year's university entrance examinations ended at 9:00 a.m. on July 5. According to an interim report made by the Ministry of Education and Training, the exams ran pretty smoothly with the number of exam-regulation violations at fewer than half of last year's.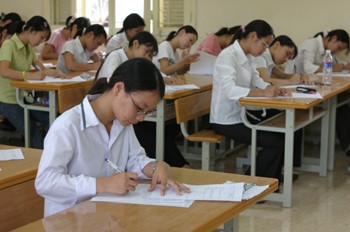 Candidates sit for unversity entrance exam in an exam venue in Ha Noi
The Ministry of Education and Training reported that the total number of registered candidates this year was 763,828 whilst the total number of candidates that actually sat the entrance examination for 92 universities and institutions nationwide was only 451,413, accounting for 70.88% (last year's rate was 72.23%).
There were 110 cases of candidates violating exam regulations, thirty-eight candidates were given formal warnings, and seventy-two were discharged from their exams. This can be considered as an improvement when compared with last year's figure of 252 reported violations.
According to the Vice-Minister of Education and Training, Banh Tien Long, this year only a few candidates were caught trying to take reference materials into the exam rooms. Most of the violations involved candidates taking their cell phones into exam venues.
The Police Department A25 revealed that two of the cases were uncovered. Both took place at the National Economy University where Vu Van Kiet and Nguyen Quy had hired fake candidates to sit the exams for them as part of an exam-cheating ring.
Yesterday, police issued urgent arrest warrants against leaders of the ring, who are now under interrogation.