112 valedictorians from various universities and institutes in Hanoi held a brief question and answer meeting with Prof. Ngo Bao Chau, Field medal winner, yesterday at the Temple of Literature.
Passion is not born from nothing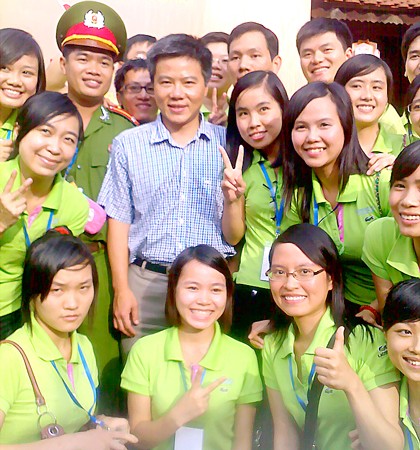 Valedictorians with Prof. Ngo Bao Chau (Photo: SGGP)
Most of the questions in the discussion were about the professor's passion for studying and how to maintain such a strong passion throughout life.
To the question by Nguyen Ngoc Dung, valedictorian of Hanoi University of Mining and Geology, "Have you ever felt so disheartened that you just want to give up everything, and how have you overcome such moments?"
Prof. Chau answered that because a scientist's knowledge has a limit whereas human knowledge is so vast; the feeling of discouragement is part of life.
However, being a true scientist means having a strong belief that one day the difficulty will be overcome, and trying one's best is the only method to win in any situation. Plus, it helps to pursue a hobby, such as writing poetry, in his case.
Another interesting question came from valedictorian Truong Thanh Long of FPT University, about his great passion for math's and whether he ever lost that passion. The professor admitted that passion does not come from nothing but from great care nurtured everyday.
According to him, passion is born from a curious mind with a desire to attain knowledge from the world around you. It is a scientist's responsibility to keep the mind intact.

It is wiser for the young to realize their deepest desires in life and try their best to fulfill their dreams, no matter how long and how difficult it may be.
Achievements are merely an encouragement
Pham Thi Ngoc Huyen, valedictorian from the National Academy of Public Administration, asked a particularly noteworthy question, "Having received the prestigious Fields Medal, and now sitting here at the Temple of Literature, what is your opinion on the value of knowledge in the past, the present, and the future?"

After a pause, Prof. Chau answered that when he came back to Vietnam, he had an opportunity to meet different people from various backgrounds and what he once thought of as real human values gradually seemed to disappear. However, witnessing all these excellent graduates signing their names in the Golden Book that night, he realized his pessimism was misplaced and hoped they would keep their flame of passion and belief alive in life.
He considered the Field Medal prize a proof of his industrious research and felt content that it could raise hope amongst the young for a better life in the future. He also advised all successful students against putting unnecessary pressure on themselves because of past accomplishments or resting on their laurels, since all achievements are nothing more than an incentive to reach a higher goal.
Always be curious like a child. Do not accept answers easily but question why. Maintain your passion.