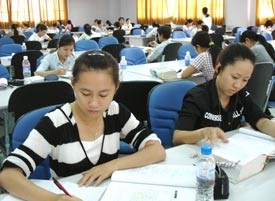 Students study in library of the Ho Chi Minh City University of Foreign Languages and Information Technology (Photo: T.C.)
Fifty top students from 14 universities and colleges nationwide have won the FUYO scholarships, worth more than US$180 each.

This is the 9th time Vietnamese students receiving scholarship from the Japanese Training Support Fund FUYO. The scholarship awarding ceremony was held by the Ministry of Education and Training and the Training Support Fund FUYO in Ha Noi on May 18, 2006.
So far, 450 Vietnamese students have been awarded with the total value of over US$90,000.