It happens every year. Thousands of junior high school kids who sit the senior high entrance examination fail to get enough points for a place in either of the two schools they have nominated for themselves and have to choose between a public school on the fringes of suburbia, a more expensive private school, or vocational school.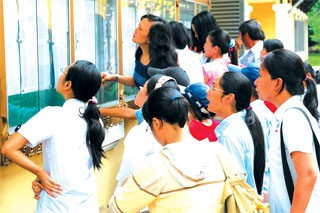 Junior high schoolers look for their names on examination result billboards at Nguyen Thi Minh Khai High School in district 3
This year nearly 3,000 of the 13,000 junior high schoolers who sat the exam in Ho Chi Minh City failed to get into their schools of choice.
Only eight senior high schools still have vacant places, and all but one are on the edge of town. The exception is Han Thuyen High in Phu Nhuan District.
Prior to the exam, the Department of Education and Training advised students on what schools they should try to get into, depending on their academic ability.
Parents and kids then went by the mark that was needed to get into each school last year before making their two choices. Unfortunately, the qualifying score for each school gets higher year by year.
Some parents are angry with the education department for failing to stress this point enough. Minh Thu, a parent in District 3, said that making two choices of school was like buying a lottery ticket and waiting for the result.
With 13,000 junior high students vying for 1,400 vacant places at eight public schools, it's no surprise that the teachers at Han Thuyen High School in Phu Nhuan have been kept busy answering verbal and written queries from parents.
In a way, these eight schools are lifebuoys for students who failed to make the cut.
The going is toughest for hard-up parents, who have been waiting patiently for hours to get a record of application for a state school lest their children be forced to quit school as a private high school is out of the question.
The flip side of the coin is that some students regret their choice of senior high school as their scores in the entrance examination were high enough, as it turns out, for them to have qualified for the best public schools.
Hoping against hope that they can change their nominated school, some of the academic achievers have been hesitant about applying to the school they qualified for.
Failing school kids have another choice - vocational school – though few students and even fewer parents look kindly on these institutions as their perceived academic level is too low.
The scene of junior high schoolers and their parents standing in line to get application records will continue to take place every year if the authorities do not address the issue from the ground up.