Investment in education is investment in sustainable development. Within permit conditions, HCMC leaders always give priority to the field's development, speed up schools' autonomy and mobilize social resources to create high quality education products meeting targets of the country's industrialization, modernization and international integration, said Secretary of the HCMC Party Committee Dinh La Thang on February 23.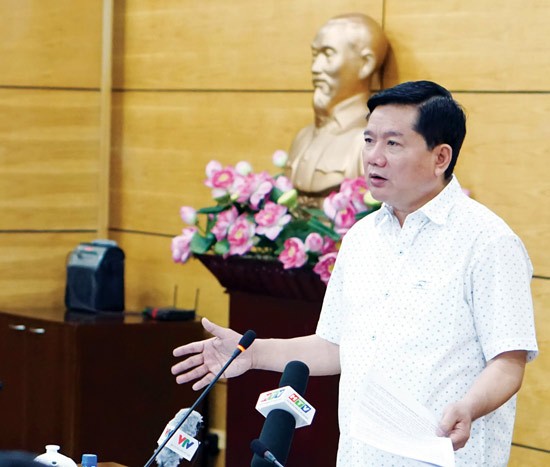 Mr. Dinh La Thang makes a statement at the working session with the Department of Education and Training in HCMC on February 23 (Photo: SGGP)
Speaking at a working session with the city Department of Education and Training, he said that the policy should be implemented in a suitable roadmap for schools to gain from partial to full autonomy on the basic of publicity and transparency to create the society's agreement, not affect educational quality or concern students' parents.
Reporting at the meeting, director of the department Le Hong Son said that the city now has 2,168 educational institutions including 1,360 public schools with the total of 1.76 million students. Last year, 14 colleges and vocational, special and nursery schools were given personnel autonomy to recruit regular employees themselves.
Nearly 100 percent schools have implemented the Government's Decree 43/2006 on financial autonomy but only five accounting for 0.4 percent of the total have been affordable for their operating costs.
For the last recent years, HCMC has called on social investment in education and mobilized funds from many resources to develop public schools. Of these, students' parents voluntarily contribute about VND450 billion (US$19.71 million) a year to assist educational activities and improve material infrastructures.
Besides the city has piloted an advanced and high quality school model with higher than normal tuition and efficiently carried out the integrated program teaching mathematics and science subjects in English under international standards.
Mr. Son reported many difficulties in materializing the financial autonomy and social investment policy because of asynchronous polices and lack of instructions from authorized agencies making public schools and teachers unable to promote their ability and creativeness.
Deputy director of the department Le Hoai Nam said that financial independence of public schools had been very difficult and the city should solve mechanism difficulties to adjust tuition level suiting education development requirements. According to him, at present schools are permitted to collect a maximum of VND400,000 a student a month so they have not been able to exercise fully financial self-control.
The Education and Training Department also named many insoluble issues at the meeting, for instance population has increased much faster than school building and the number of students per class is high now. Many schools have been short of material infrastructures to organize two spells of study a day, increase extracurricular activities and exercise for students and teach living skills.
In addition, many good English teachers in primary and secondary schools have quitted because of low wage inappropriate with their ability.
Secretary Dinh La Thang said that it is necessary to determine the leadership role of the Department of Education and Training as well as the initiative of each school in financial autonomy and development directions in the phase of 2020-2030. They should make clear which assistances they need from the city to obtain their targets.
He noticed the currently high obese ratio of students in cities because of little physical exercise.
The secretary instructed agencies to solve difficulties in implementing the financial autonomy, human resources and tuition adjustment to facilitate the education and training's autonomy.
He proposed the Department of Finance to provide the Department of Education and Training with sufficient funds for regular spending on educational activities, the education industry to study a suitable wage mechanism for teachers. The wage should suit working ability instead of paying all teachers at the same level, aiming to lure and keep good teachers in the field.
The Education and Training Department should have a road map to reduce curricular overload for students because they have to study and take exams too much. From now until 2020, the agency must put an end on the ongoing rampant tutoring which has caused negative issues and coordinate with relevant sides to hike the ratio of urban students knowing how to swim especially those in Can Gio district, added Mr. Thang.