The Ministry of Education and Training hailed residents of cities, where many of the exams were held, for their kindness towards the candidates.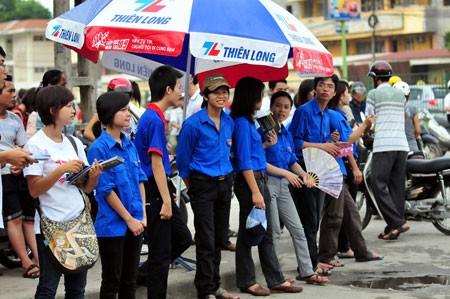 Student volunteers at a bus station in HCMC. Youngsters like these are a massive help to high school graduates coming to the city to take university entrance exams, helping them find cheap or free places to stay and providing them directions to the center. (Photo: SGGP)
In the conference evaluating this year university entrance exams, the MoET said that most came from outside, many for the first time, and residents helped them with food and accommodation and other things.
The Ministry said this greatly encouraged helped needy students to overcome their disadvantage and take the exam.
Student volunteers also helped the young people cope with the stress of the entrance exams.
There have been calls to abolish the university entrance exams because of the costs involved but their smooth holding this year could persuade a rethink.
But to reduce the number of students registering at multiple universities and colleges, educationists said counseling should be provided at the 12th grade stage or even sooner.
The national university entrance exams wrapped up with 1.26 million students taking them, fewer violations being reported than last year, and candidates choosing courses more precisely thanks to counseling.