Ho Chi Minh City, Can Tho, Da Nang, Hanoi and Hai Phong should lead the country in education quality, Deputy Prime Minister Nguyen Thien Nhan said December 5.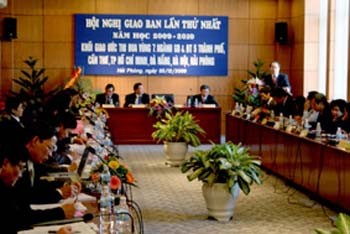 Delegates from five major cities attend a meeting in Hai Phong December 5 held by the Ministry of Education and Training on enhancing Vietnam's education and training quality (Photo: Nhan Dan Newspaper)
Mr. Nhan, who is also the Minister of Education and Training, was speaking at the first conference for the 2009-2010 school year, which was held by the ministry in Hai Phong with representatives from the five major cities.
In an effort to increase teaching standards, Education and Training Departments in the cities have carried out campaigns encouraging teachers to instill ethical values in their students through example.
Charitable projects have also been undertaken including raising money for disadvantaged students, planting trees and building toilets for schools.
The projects raised a total of around VND6.5 billion (US$351,000) and schools donated 17 tons of clothes, schoolbooks and study aids to underprivileged students. More than 66,000 trees were planted and over 10,000 toilets have been installed.
Hanoi alone invested over VND317 billion ($17 million) for classroom lightning systems, modern toilets, and building upgrades.
The municipalities should also lead in calling on the private sector to build education infrastructure and universalize schooling, Mr. Nhan said.
Experts say the number of teachers meeting or exceeding standards in the five cities has increased consistently. Schools report more educators striving to improve their knowledge, including learning foreign languages and computer skills, while developing their professional ability.
From 2010 to 2011, the cities will also run a pilot program teaching English to students beginning in grade 3.
During the conference, delegates signed an agreement which included the goals of innovating management, strengthening information exchange between localities, and enhancing the quality of teachers and staff to improve education and training.
In addition, they discussed measures to improve the administration of high school exams.