On Saturday, five big cities in Viet Nam, namely Ho Chi Minh City, Ha Noi, Hai Phong, Da Nang and Can Tho, signed a mutual agreement on education strategy for the 2007-2008 school year including seeking permission to teach foreign languages and IT to first graders.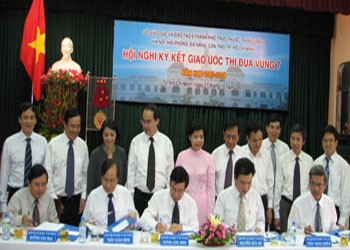 Five directors of the Departments of Education and Training of HCMC, Ha Noi, Hai Phong, Da Nang and Can Tho sign the deal on Oct 27
Accordingly, education leaders from the aforementioned cities agreed to seek the Ministry of Education and Training's permission to be able to take the initiative in teaching foreign languages and Information Technology to first graders (six year olds) and up.
At the signing ceremony, Deputy Prime Minister and Education Minister Nguyen Thien Nhan instructed the five cites to accurately assess their education staff's competence and hold frequent training classes for them.
He requested schools to be well-equipped, teachers to be well qualified, and all schools to publicize their expenditure so that parents could know where the tuition fees go.
The five parties also agreed to take bolder measures to combat exam cheating and corruption at institutions, in an effort to secure a respectable standing in the educational arena.