Vietnam is well on its way to integrate with the world and for that reason emphasis on English language skills has become very essential.
Recently, the City Department of Education and Training decided to recruit foreign native English speakers to teach in elementary, middle and high schools in Vietnam.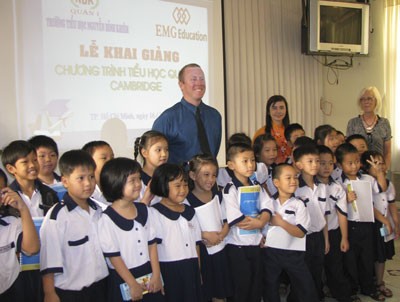 Foreign teachers and students attend the opening of the new school year of Nguyen Binh Khiem Primary School (Photo: SGGP)
The policy calls for social contributions to improve English language teaching from primary schools to senior high schools by employing only foreign native English teachers. Each student will chip in VND120,000 (US$5.8) a month to cover the $35 an hour salary of the foreign teacher.
Compared to traditional English teaching methodology, it is better that thousands of students in the City have a chance of practicing listening and speaking skills with native English speakers, who create a more exciting atmosphere in classrooms for students.
Nguyen Binh Khiem Primary School in District 1 has hired foreign teachers to teach maths and science in English and students can get International Cambridge Degrees after finishing their curriculum. For pursuing this program, 400 students were ready to pay a high tuition fee of $150.
Le Thi Ngoc Diep, school headmistress, said first graders are more confident after learning English for sometime with foreign teachers as they are forced to talk and listen to the language during class hours.
HCMC has always been first at taking the initiative to implement pilot English teaching programs. Along with social contributions, the City focuses on improving teaching and learning standards. Accordingly, the students achieve a better English level, which has been acknowledged by the Department of Education and Training.
With this in mind, HCMC decided to employ 100 Filipino teachers for the new academic school year and adopt a special policy for English teachers in schools for gifted students as well as send them abroad for attending refresher courses periodically.
Le Hong Son, the department director, stressed that out of 100 Filipino teachers, 80 would be sent to primary schools and 20 others will work in junior schools. 
Concerning the recruitment decision of Filipino teachers - part of a pilot program to help students at selected schools improve their English proficiency - some people said the department should employ native speakers from the UK, US, Australia, and Canada including Vietnamese people living abroad for a long time and excellent overseas students who meet recruitment requirements.
These teachers, who must have a first class degree and be equipped with TESOL skills, will teach English to students, engage in discussions on expertise with their Vietnamese counterparts, and take part in extra-curricular activities during the contracted hours.
In addition to recruiting foreign teachers, selected elementary, middle, and high schools at the district level should be well equipped to handle the program. The City must therefore spend more and not just wait for social contributions from parents.