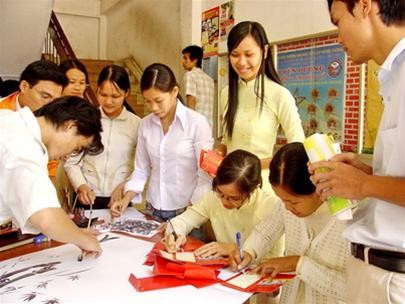 Students at the Hung Vuong University make calligraphic greeting cards to give to poor children.
Student Assistance Centers held a program providing free bus ticket to more than 3,000 students from universities and colleges in Ho Chi Minh City and Ha Noi.
"Mom, I'll be able to come home to see you for Tet this year", Nguyen Thi Minh, a student at the Hung Vuong University said in tears while holding a bus ticket in her hand.
Minh hasn't come back her homeland, the central province of Ha Tinh, for more than three years. "I work very hard here but I only make enough money to cover living expenses. So, despite being really homesick, I've never been able to make it home for Tet" Minh said.
Minh is one of 3,000 lucky students who were offered a free bus ticket home by Student Assistance Centers in Ha Noi and HCMC.
Overjoyed with the prospect of going home, Minh teamed up with her schoolmates, who also received free tickets, making calligraphic greeting cards to give to poor children. "I was so happy about my ticket home that I wanted to share my happiness with other people. That's when the idea of making greeting cards for poor children came to me" Minh said.
Two buses from Ho Chi Minh City to the central provinces and cities of Quang Nam, Da Nang and Quang Ngai will depart on February 7 with the remainder leaving on and after February 12.
Buses will begin leaving Ha Noi on February 11 from three locations such as The Ha Noi Student Association, Thong Nhat Park and the Vietnam National University campus.