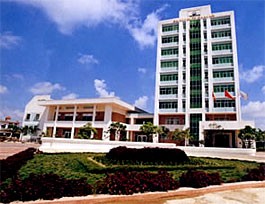 Viet Nam National University-Ha Noi
French university centres will begin their official operation in Viet Nam in the next school year, with their first enrolment programmes scheduled for September and October 2006, affirmed Alexandre Minski, Attaché in charge of tertiary education cooperation of the Ha Noi-based French Embassy,
Representatives of the Vietnamese and French Governments signed a financial agreement under which the latter will contribute 3 million EUR to the centres within three years.
The French university centres are based at the Ha Noi National University and the Ho Chi Minh City National University. They will offer undergraduate, graduate and post-graduate training programmes in economics, information technology, law and industrial management alongside research activities. As many as 25 French universities will engage in research and training activities at these centres.
This is France's first tertiary training model in Viet Nam, which is aimed at assisting Vietnamese universities in the process of development and international integration, Attache Minski said. He added that the degrees granted by these centres will be recognised by France and other European countries.
In the near future, the French university centres will focus on undergraduate training programmes with around 40 students and graduate training programmes with between 20-25 students.
The project on French university centres in Viet Nam was carried out under a protocol signed between the two countries during French President Jacques Chirac's visit to Viet Nam in October 2004.-
Source: Viet Nam News Agency