The establishment of the Fulbright University Vietnam (FUV) – the country's first independent and non-profit higher education institution- was announced in Ho Chi Minh City on May 25.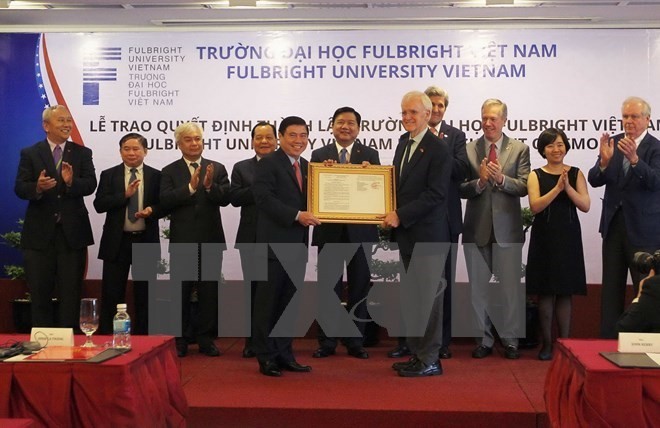 The ceremony to announce the establishment of Fulbright University Vietnam (Source: VNA)
The university is the next step of the existing Fulbright Economics Teaching Programme, a public policy master's programme that the Ash Centre at the Kenney School of Government under the US's Harvard University, established in 1994 in cooperation with the HCM City-based University of Economics.
Formed under the Prime Minister's Decision No. 819/QD-TTg dated May 16, 2016, the university is scheduled to open at the end of 2016 with first courses offered by the department of public policy and management.
The university plans to open a department of social sciences and humanities in 2018.
With an initial investment of 70 million USD, the FUV will build its headquarters at the HCM City Hi-Tech Park.
Addressing the event, Dinh La Thang, Secretary of the municipal Party Committee, described the formation of the university as an important event and a step forward in the relationship between Vietnam and the US.
As the nation's leading centre in various spheres, including education and training, HCM City desires to become a financial, scientific and technological centre in Asia-pacific, the official stressed.
He added that the US's experience has proven that the quality of human resources is decisive to prosperity and is the key for his city to meet its targets.
The city has pinned high hope on the success of the FUV, not only in terms of education but also in strengthening the connectivity and mutual understanding between the two countries' youths, thus contributing to boosting ties between their peoples, he said.
Thang pledged to create the best possible conditions for the operation of the university in order to contribute to development in their respective countries.
US Secretary of State John Kerry thanked the municipal leaders for their support for the university, saying that the school is a smart investment for the two countries' future generations.
He voiced his hope that the university will make remarkable contributions to Vietnam and become an education centre for the future.