The Gia Lai Province authorities have helped to build a vocational training school in Preah Vihear Province in Cambodia.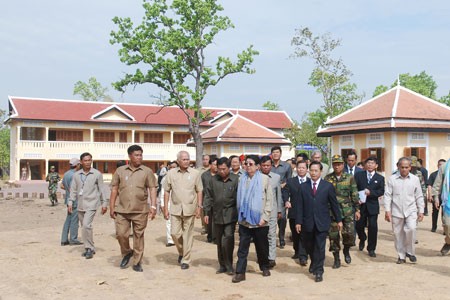 Representatives from the Royal Government of Cambodia and Gia Lai Province visit the Gia Lai-Preah Vihear School.(Photo:baogialai.com.vn)
Gia Lai Province donated US$350,000 to build the training school along with the participation of the Royal Government of Cambodia.
The Gia Lai-Preah Vihear School is located in Phum Thorm Cheat in Chorm Ksan district. The school built in 8 months on an area of 540 square meters, includes a two-story building, six theory rooms, three practice rooms, labs and an internet room.
It will provide short-term and medium-term skill training in repairing small machinery, radios, tape-recorders, TV sets and wood processing items for souvenirs as well as provide practical training in vegetable growing and fish breeding.
150 students have already enrolled in its first course.