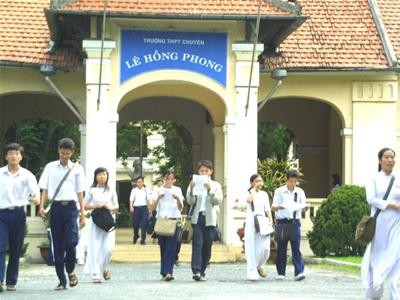 Le Hong Phong High School in Ho Chi Minh City.

Ho Chi Minh City's Le Hong Phong high school for the gifted asked the Government April 6 to allocate more budget funds for the school based on the total number of classes instead of the total number of students.
According to school Principal Vo Anh Dung, there are 54 classes with more than 1,700 students in the school.
However, the qualifications of teachers at the school are not equivalent.
Teaching staff are paid inadequately and must therefore tutor students outside of class or take other jobs just to make ends meet. This affects the quality of their teaching at the school, added Mr. Dung.
Moreover, the school also suffers a shortage of facilities and teachers for some specialized classes, he said.
Mr. Dung asked that the school be expanded and improved to become a more modern, advanced teaching institution, adding that the city needs better policies to prevent brain drain of students to foreign countries.