The Ministry of Education and Training on April 23 launched Global Action Week on Education 2013 with stress on enhancing the capacity of teaching staff to ensure equal access to education.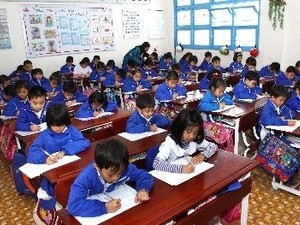 Illustrative image (Photo :VNA)
The annual event, which is under the framework of the Global Campaign for Education, will run in Vietnam from April 21 to 28, carrying the themes "Every Child Needs A Teacher" and "Competent and Enthusiastic Teaching Staff for All Learners".
Speaking at the event, Deputy Minister of Education and Training Nguyen Vinh Hien said that Vietnam is shifting the focus from access to education to access to quality education, and qualified teachers are crucial to ensuring the rights to education. Therefore, the education system and teacher training programme are subject to renovation.
The senior education official also noted that his ministry prioritises the improvement of recruitment and enhancing working conditions for teachers nationwide.
The launch ceremony at Chu Van An Temple (dedicated to a well-known scholar and teacher during the time of feudalism in Vietnam ) received a warm response from those involved in the field. During the week-long event, schools and universities nationwide will come up with various actions including discussions, direct dialogues among students, teachers, parents and education officials.