Go Vap District had the largest number of Class 9 students receiving prizes for an annual examination competition for good students held March 19 in Ho Chi Minh City, the HCM City Department of Education and Training said.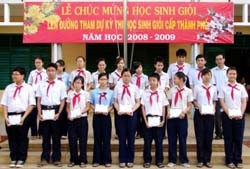 Go Vap District's winners in an annual examination competition for good students are commended in a praising ceremony held by the district at Nguyen Du secondary school (Photo: govap.hochiminhcity.gov.vn)
This is the 13th year that Go Vap leads the city in such exams.
Go Vap had 143 contestants, of whom 132 won prizes: 59 first prize, 41 second prize and 32 third prize.
These 143 students participated in nine subjects: literature, history, geography, English, computing, math, physics, chemistry and biology.
Go Vap was followed by District 1, Tan Binh, Tan Phu, districts 5, 11, 10, Thu Duc and Binh Thanh.
Three schools in the district had the largest number of students participating in the exams: Nguyen Du with 116, Go Vap 2 with 11 and Phan Tay Ho with six.
Participating in the exam competition were 3,166 contestants from 24 districts in the city. 1,862 students won prizes.