The Government plans to invest VND410 trillion, equal to about US$24 billion, in education between this year and 2020, according to the Ministry of Education and Training.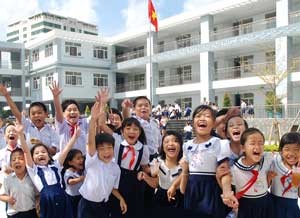 Primary school pupils in Ho Chi Minh City start a new school year on September 5 (Photo: SGGP)
To raise the capital, the State plans to issue bonds worth VND4-5 trillion (US$235-294 million) annually. Under the ministry's national education development strategy, schools will upgrade and build accommodation for teachers.
In addition, around VND20 trillion (US$1.1 billion) will be raised from official development assistance for the education sector over the next five years.
Some 60 percent of lottery sales, estimated to be worth VND3.9 trillion (US$234 million) this year and VND5.4 trillion (US$317 million) in 2012, will also go to the education sector.
Funds mobilized from other sources, particularly individuals and businesses, are expected to meet 8-10 percent of the total education budget.
So far this year, the State has allocated VND67 trillion (US$3.9 billion) for education and training, some 90 percent of its yearly education spending target.
"The ministry plans to collect capital for education investment from pre-school and higher education fees, which will be equivalent to 6 percent of the average household income in each locality," said Nguyen Van Ngu, head of the ministry's Financing and Planning Department.
Education fees are expected to reach nearly VND19.6 trillion (US$1.1 billion) in 2008 and nearly VND132 trillion (US$7.7 billion) by 2020.
Under the national education development strategy, all five-year-olds will attend school by 2020.
The Government plans to build at least five universities, which will be in the top 100 in the Association of Southeast Asian Nations (ASEAN) and attract 15,000 foreign students.
Under the education plan, the literacy rate among those aged 15 and over is expected to reach 96 percent by the end of the decade and 98 percent by 2020. According to the ministry, the current literacy rate is 94 percent.
Vocational training will also be provided for around 30 percent of high-school graduates by 2020, under the plan.
The Government is aiming to have 200 people out of every 10,000 in full-time university education, rising to 450 by 2020.
The ministry is also planning to revamp education management, boost skill levels among education staff, appraise education facilities and improve vocational training to meet business demand. It is also planning to standardize science and technology research and training centers.
Nguyen Viet Thinh, head of the Hanoi Teachers Training University, said it was particularly important to raise teaching standards at pre-school and primary school levels, which serve as a foundation for higher learning.
Dang Van Uy, head of the Maritime University, said funds should be allocated for training human resources to meet demand.