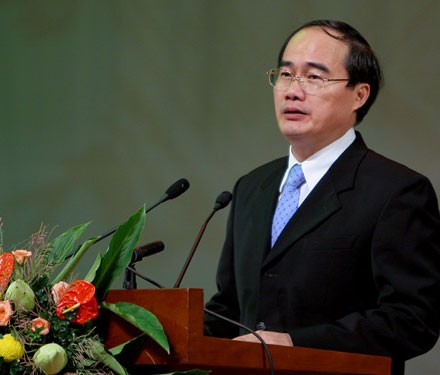 Deputy Prime Minister and Education Minister Nguyen Thien Nhan.
On the occasion of the new academic year, the Deputy Prime Minister and Education Minister, Nguyen Thien Nhan, has sent a dispatch to local authorities to order them to focus on five duties to improve the quality of education.
First, he ordered each teacher and managerial staff to make an innovation in the way they are teaching and managing to put an end to learning-by-rote within two years.
The schools should run for quality instead of quantity, but should keep the rate of weak pupils and school quitters below 0.5 percent, he said.
The experience of this year's high school final exams will be the foundation to settle policies for next year's final exams.
Second, the schools continue to implement the emulation movement of 'building friendly schools, producing active learners' to improve social interest in education. The pupils should be ensured three aspects: health, dress and equipment.
Twelfth-grade pupils across the nation will also hold a ceremony to show gratitude and their maturity when they graduate.
Third, local authorities are asked to propose new tuition fees for local municipal committees and councils, which will be applied from the academic year 2010-2011.
They are also ordered to give priority in using budgets to universalize education at primary level and ensure incomes for teaching staff, as well as financial support for disadvantaged pupils.
He has also instructed local governments to develop school networks in rural areas and upgrade infrastructure and educational facilities.
Finally, he wants to raise the quality and capacity of teaching staff and deal with the shortage of teachers in some provinces.