Deputy Prime Minister and Education and Training Minister Nguyen Thien Nhan said December 25 that government spending on education would increase in 2010.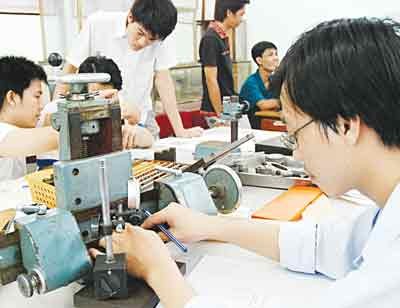 Government spending on education would increase in 2010 (Photo: SGGP)
He was speaking at a meeting in Ho Chi Minh City held by the Ministry of Education and Training (MOET) to discuss the use of state budget funds for educational institutions next year.

According to the Planning and Finance Department under MOET, the government funds just VND2.39 million (US$129) for each postgraduate a year and VND2.15 million for each graduate. The figures are low compared to other countries.

Nguyen Van Ngu, director of the Planning and Finance Department, said low investment in education is the most obvious obstacle in obtaining state-of-the-art teaching equipment and retaining good teachers.

Pham Quang Trung, deputy head of the Hanoi-based National Economics University, said a roadmap is needed if more schools are to become self-financing.

Da Nang University officials, meanwhile, agreed that more investment in education is necessary.
Dr. Nguyen Van My, head of the Hanoi Industry Art College proposed MOET increase spending on students in arts, jewelry and lacquer programs because very few learners pursue such sectors.

Only eight to 10 students enroll in classes each year and the government pays arts teachers just VND29,000 per period. Thus, most teachers end up leaving the profession.

Dr. Tu Quang Hien, director of Thai Nguyen University, complained slow disbursement of state budget funds to schools is causing headaches.
For instance, the National Economics University planned to construct a training center estimated to cost around VND700 billion. That figure has now grown to over VND900 billion, however, and the government granted just VND50 billion in 2009 while the school says it received only VND23 billion. 
The deputy minister said schools must be cautious about continually increasing tuition while failing to increase teaching quality, as the public will become angry.
The Planning and Finance Department says it will spend over VND4, 856 billion on education in 2010, a year-on-year increase of VND4, 394 billion. 
The new financial plan for state-owned schools is expected to take effect soon. Under the plan, tuitions will be increased for students studying social sciences, economics and law, technology, natural sciences, forestry-aquatic products, pharmaceutical medicine, sports and art.