Prime Minister Nguyen Tan Dung has approved the allocation of VND4.5 trillion (US$243 million) from Government bonds this year to continue a project aimed at upgrading schools and communal houses for teachers for the 2008-2012 period.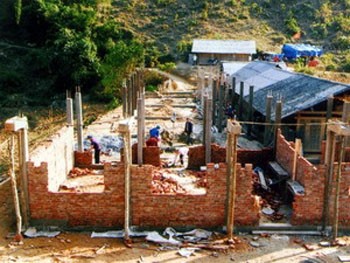 The construction site of a primary school in the northern province of Bac Kan. The government has said it will continue to pour funds into a project aimed at improving school infrastructure. (Photo: VNA)
The announcement was made by Deputy Minister and Minister of Education and Training Nguyen Thien Nhan during an online conference held March 8 with local authorities to estimate results of carrying out the project in 2009 and announce plans for 2010.
The Ministry of Education and Training has ordered provincial and city people's committees to quickly release enough capital for projects that have had their investment procedures completed.
The capital should be preferentially given to works in poor districts, the ministry instructed.
The ministry also proposed that the PM allow localities with a high capital release rate to obtain capital for 2011 in advance.
After two years of carrying out the project, the total number of classrooms approved for construction was 62,063. To date, 55,723 or 90 percent are finished or under construction and 32,469 rooms are currently in use.
The number of communal rooms to be built for teachers was targeted at 18,942. So far, 11,953 rooms have been completed and are in use.