RMIT Viet Nam Business Club organised the Charity Fair and Sky of Dreams Night at the RMIT Viet Nam campus in District 7 in HCMC, September 1. This is one of the series of activities to raise fund for the Grand Charity Project.
A traditional game at the Charity Fair(Photo:U.Phuong)

The special program included various fascinating and exciting activities like students and staff football competition, buffet and dinner, drawing, and smashing earthen pot with a stick.
At 6 PM, hundreds of lanterns were released on the sky with wishes, making it a beautiful scene.

All raised money will be contributed to organize the Middle Autumn Fistival for over two hundred disadvantaged kids from the six orphanages which this Charity Project sponsors for.

At the end of the project, at the Mid-Autumn festival, RMIT Viet Nam Business Club and the New Day team from Foreign Trade University will hold a Mid Autumn Celebration for two hundred disadvantaged kids from six orphanages on October 6.
This event is expected to be a gift from RMIT students to give the kids an unforgettable childhood memory of love and care.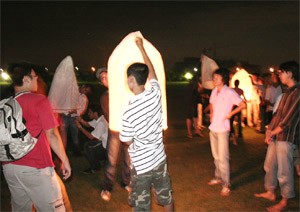 Students prepare to release their lanterns (Photo:U.Phuong)
With the great support from RMIT Viet Nam's Marketing & Communications Department and Student Services Department, the Grand Charity Project is organized to raise special funds to donate to the needy children in HCM City throughout the series.
The series occurs from Week 6 to Week 11 of Semester 2/2006, offering an opportunity for all RMIT students to open their heart, give their hands and share their joy.
The first event to be launched was the Art Exhibition, which was opened free to public with precious support from various photographers and RMIT staff, together with paintings of children in Thang Long orphanages.
Activities include Motorbike-wash Day, "The art of words" Calligraphy sale, Charity Lottery, The Money Tree and Song Gift programs and a Sky Lantern Night.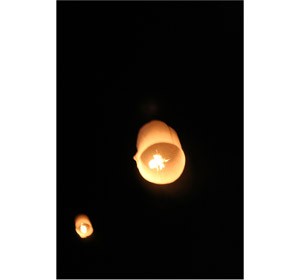 Released lanterns bring best wishes to the sky (Photo:U.Phuong)
All funds raised by the Grand Charity Project will be directly and fully donated to six orphanages introduced by the Ho Chi Minh City Women Association, including:
1. Tan Binh Open House: 261/1A Dong Den Street., Tan Binh District
2. Ba Chieu Open House: 149/1 Nguyen Van Dau Street, Binh Thanh District
3. Binh Minh Open House: 108 Number 6 Street, Ward 4, District 4
4. Anh Sang Open House: 80/76 Tran Quang Dieu Street, District 3
5. Huong Duong Open House: 184 Phan Van Khoe Street, Ward 5, District 6
6. Sai Gon Station Open House: 16/99 - 101 Ky Dong Street, Ward 9, District 3.