The Hanoi University of Social Sciences and Humanities, member of Vietnam National University yesterday honorably received the First- Class Labor Medal on the occasion of the 20th anniversary of its establishment.

This was the second time that the university received the First Class Labor Medal.

In the long period of its establishment and development, the university which was founded on the merge of social scientific faculties of Hanoi General University and Hanoi University of Arts. Nowadays, it is the country's leading research and training center in the field of social sciences and humanities which has greatly contributed to education and training of high quality human resources.

Speaking at the ceremony, Deputy Prime Minister Vu Duc Dam said that the university had contributed to cultural and human resource development of Vietnam as well as nation defense in the previous times.

One of the powers of social sciences and humanity is to go along with social life and destiny of the nation, he said.

"Nowadays, Vietnam has big chances as well as challenges in the country development hence teachers and students, who have worked and studied in University of Social Sciences and Humanity, will be pioneers for encouraging young generations and the whole society to preserve and enhance traditional cultural values and forge patriotism", stressed Mr. Vu Duc Dam.

With its outstanding achievements, the university has won prestigious awards from the Party and State such as the Third- Class Labor Medal (1961), the Second- Class Labor Medal(1962), the First Class Labor Medal (1981), the First Class Independent Medal (2001), the Title Of Labor Hero in the time of renovation (2005), 8 awardees of President Ho Chi Minh's Prize,13 awardees of the State Prize of Science And Technology, 23 awardees of the title of People's Teachers and 40 awardees of the title of Eminent Teachers.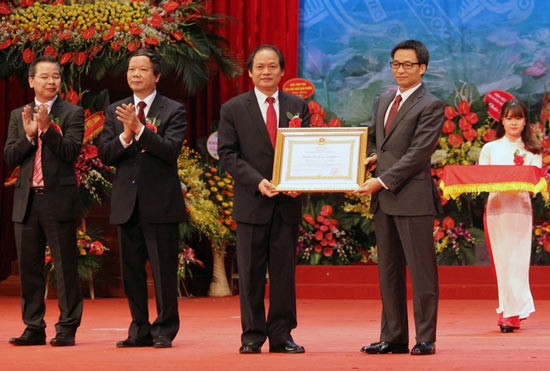 Hanoi University of Social Sciences and Humanities receives First Class Labor Medal. (Photo: SGGP)