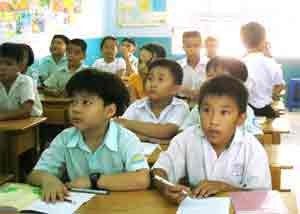 Third grade students of a school in district Phu Nhuan are studying. First and third graders can apply for an intensive English class in the second semester of the academic year 2010-2011 (Photo: Kim Xuyen)
Nine junior schools in Ho Chi Minh City will implement pilot English program for third grade students and since the second semester of the academic year 2010-2011. Le Ngoc Diep, Head of the Primary Education Division under the HCM City Department of Education and Training (DHET), said about selection standards for schools.
This is the first year the education sector has implemented the program to teach foreign language to third graders.
DHET selected nine junior schools in district in HCMC and in outskirts whose facilities and trained teaching staff could meet the demand of the Ministry of Education and Training (MOET).
The sector decided to choose Oxford's Family and Friend book as official textbook for the program after many meetings to listen to ideas from headmasters whose schools have used it and subdivisions. The publishing house will provide gratis textbooks to learners this year as it is pilot program.
Parents and school should encourage students to follow the program. Any fourth graders who are awarded the Starter certificate by Cambridge ESOL, part of the world-famous University of Cambridge, needn't to enter for the final examination administered by the ministry.
This academic year DHET encouraged primary schools to teach intensive English classes if schools have good facilities and ensure a class might be as many as 30 or 35 kids. DHET also urged schools on building special rooms and labs to teach English to ensure the quality and quantity of a class.
One thing to note is that DHET will not test first graders who want to study English but will strictly supervise the graduates. Students of intensive English classes must sit the examinations held by the Cambridge Esol; if second graders failed in the examination for starters, they will be transferred to normal program under the ministry's curriculum.