Ho Chi Minh City National University should standardize its curricula to enable greater integration with international universities and enhance the quality of scientific research, Deputy Prime Minister and Minister of Education and Training, Nguyen Thien Nhan, said yesterday.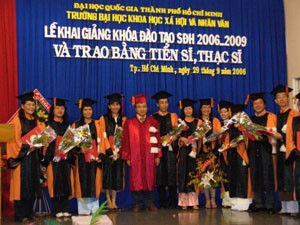 HCMC Social Science and Humanity University grants Masters and Doctoral degrees to graduates.
This is necessary for it to become one of the top universities in the region, he told the university's annual congress.
"The most outstanding achievements of HCMC-NU in the 2006-2008 period are renewing teaching methods, stepping up science research, broadening international relationships and building a civilized and modern university," said Associate Professor and Doctor Phan Thanh Binh, director of the university.
In the last school year, HCMC-NU introduced the credit earning system for its courses in all its affiliate institutions.
Nhan highly appreciated the results achieved by the university, especially in scientific research and international cooperation.
The Deputy Prime Minister awarded the Second-class Independence Medal to Associate professor and Doctor Tran Chi Dao, former Deputy Minister of Education and Training and director of HCMC-NU.
Founded in 1995 by the merger of a number of prestigious educational institutions in the city, the Ho Chi Minh National University is the largest university in Vietnam. In 2007, it received more than 45,000 students and conducted 88 Masters and 90 doctoral training programs.