Ho Chi Minh City Party Committee Secretary Dinh La Thang encouraged Ton Duc Thang University to develop non-state funded education modal and manage it as a business to take the initiative in making decisions on salary, bonus and scholarships, during his visit on March 14.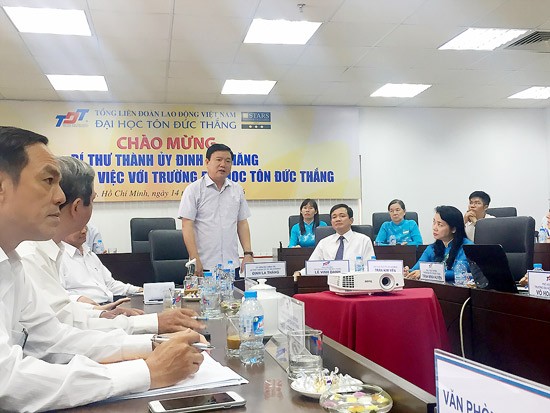 HCMC Party Secretary Dinh La Thang visits Ton Duc Thang University on March 14 (Photo: SGGP)
Dr. Le Vinh Danh, the university's principal, reported that Ton Duc Thang University was established in 1997 with nine members which have increased to 1,760 teachers and staff now.

The university has determined to apply international standards in educational activities and strive for the country's leading university in the next seven years and the world's top 500 in the next 20 years.
Secretary Dinh La Thang said he was impressive with the university's facility and administration and appreciated highly its efforts.
He proposed the Vietnam General Confederation of Labor to delegate powers of appointments to the university's management board and not to introduce other personnel into the board.
The university should build up its brand name by itself, focusing on training careers encouraged by the city and equip students with not only knowledge but also business-startup and enrichment skills, he says.
The secretary acclaimed the university's investment in health training and prompted it to further connect education and training activities with scientific institutes, research centers, businesses and tech zones to make training in association with market mechanism.
At the meeting, the university reported to the HCMC Party Chief difficulties in importing an osteoporosis meter for students' study. The meter has been kept at a port since November last year because the Ministry of Health has yet to license its import.
Afterwards Mr. Thang called Minister of Health Nguyen Thi Kim Tien and Deputy Minister Nguyen Viet Tien proposing them to check up the case.
The deputy minister then contacted Dr. Le Vinh Danh and promised to soon inspect and solve the issue.