More than 5,000 staff and teachers in city schools need training in computers and many schools sub-districts and districts lack equipment to provide computer training to students.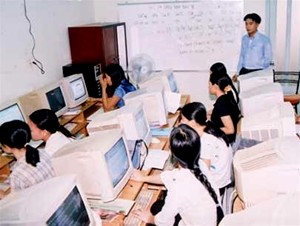 Photo: Tuoi Tre
These are among the findings of a review of IT application in schools for the 2007-2008 school year conducted by the HCMC Department of Education and Training.
The department yesterday reported that almost 100 percent of high school students, 45 percent of middle school students and 25 percent of elementary school students learnt computing in the 2007 – 2008 school year.
Some pre-schools have been equipped with the Kidsmart program to help children get acquainted with computers at an early age.
High schools like Le Hong Phong, Tran Dai Nghia, Mac Dinh Chi and Nguyen Thi Minh Khai were leaders in using computers and preparing digital curriculums.
However, schools in the sub-districts of Binh Chanh, Cu Chi, Can Gio, Hoc Mon, Nha Be; and the districts of 2, 7 and 9, were still finding it very difficult to equip themselves with computers to aid teaching and learning.
About 5,100 staff and teachers needed to be trained to use computers. This number does not include teachers in foreign languages and computer learning centers and continuation schools.
The city People's Committee offered two certificates of merit to Than Trong Phuc, General Director of the Intel group for Vietnam, Laos and Cambodia; and Nguyen Thuong Hai, Director of Vietnam Intel's education program, for their contribution to the application of information technology in city schools.