Many schools in Ho Chi Minh City have been taking students on cultural and historical tours, aimed at imparting knowledge of the country's cultural traditions and past revolutionary wars to the younger generation.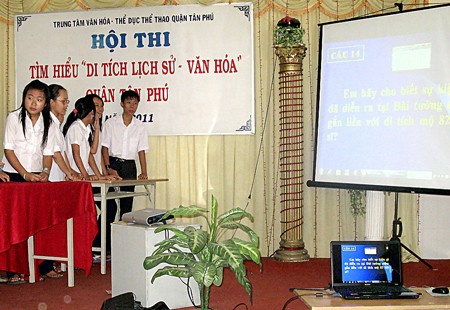 A contest being held on cultural and historical sites in Tan Phu District . (Photo: Sggp)
Museums and relics have attracted more than 1.5 million students since 2008, said Nguyen Van Que, head of the Department of Cultural Heritage under the HCMC Department of Culture, Sports and Tourism.
This is regarded as a good cooperation project between museums and schools in the city whereby students learn about the nation's history and ancient traditions, he added.
Local authorities have also been organizing exhibitions, speaking contests on relics, heritage, martyrs and heroes in schools throughout the city.
Nguyen Thi Thuy Trang, a student of Ho Chi Minh City University of Culture said that she was moved when she saw exhibits related to Uncle Ho in the Ho Chi Minh Museum. The trip helped her to perceive her lessons better at school.
Trang and her friends will also be visiting the Vietnam History Museum, Ho Chi Minh City Museum and Ho Chi Minh City War Remnants Museum.