Educators in Ho Chi Minh City say that despite their hard work and dedication, they will likely receive extremely small Tet (Lunar New Year) bonuses this year, if at all.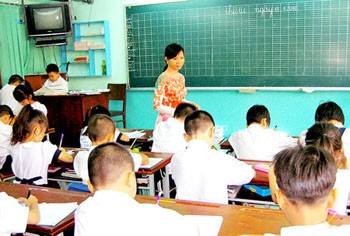 Teachers in HCMC say their annual Tet bonuses are extremely low while staff at some companies enjoy bonuses of hundreds of millions of dong. (Photo: SGGP)
Trinh Thi Quyen Quyen, a teacher from An Ha Primary School in the city's Binh Chanh District said she hasn't heard anything about this year's bonus. It makes her sad, she added, to think that some businesses offer their staff hundreds of millions of dong each, while teachers barely scrimp by.
Last year, the school offered teachers just VND200,000 each, Quyen said, and she's not sure she'll be able to afford many Tet staples this holiday season.
An Ha School teachers, however, are still luckier than those in many other primary schools in Hoc Mon District.
Dang Quang Minh, a teacher from Cau Xang Primary School said that his school could not afford any Tet bonuses.
Inner-city schools earn money for Tet bonuses from canteens, parking lots, and by renting out space for night classes. But those in suburban areas do not have the same advantage, Minh said.
The Cau Xang School set up a fund through its student-parent association, which charges parents VND70,000 a year. Most of the funds are used for awards, scholarships and helping poor students, Minh said, with little left over for Tet bonuses.
As a result, teachers in suburban areas hope to receive assistance from city and district budgets, but financial help is not guaranteed.
Some inner-city schools save all year to pay teachers a bonus.
Dien Bien Primary School in District 10, for instance, has just 125 students and thus only a small fund from the student-parent association.
The school nonetheless tried its best to save and will offer each teacher VND300,000 this Tet, school Principle Tran Minh Thu said.
Teachers at Phan Van Han Primary School will also receive a bonus of VND300,000 this year.
Teacher Nguyen Thi Thanh Xuan from the school complained, however, that primary school teachers are not paid for marking exam papers like secondary and high school teachers are, despite the fact that primary teachers mark up to 100 papers a day.
Some schools justify not paying an extra full-month's salary to staff at Tet –like most businesses do – by pointing out that teachers are paid for three months in the summer despite not having to teach.
Teachers, however, say that in reality they spend two-thirds of their summer vacation attending professional courses and working in other capacities.