Ho Chi Minh City's education department on Thursday instructed local agencies to carry out surprise inspections on private kindergartens this month and to close down any failing to meet safety and hygiene standards.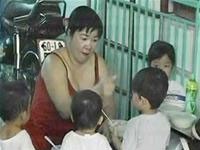 The video clip aired on Viet Nam Television shows 40-year-old Quang Thi Kim Hoa beating 7 children while feeding them.
Private nurseries are also required to submit reports on nursing and education policies as regulated, particularly those related to children's diets and nutritional regimen.
The department said it will close down any nurseries failing to meet standards.
Recently, the public was outraged when a 40-year-old nanny in the southern Dong Nai province was arrested following a video clip release showing her whipping seven children and slapping their faces while feeding them.
Quang Thi Kim Hoa, who has never been trained as a nanny, even pulled a little girl's hair backward to pour food into her mouth.
She admitted she beat the children only during meals, because "they refused to eat".
Then on November 30, 2007, an eighteen-month-old infant was found to have stopped breathing in a private nursery in Ho Chi Minh City after a school attendant covered the baby's mouth with a duct tape to stop her from crying.
One month after being hospitalized in coma and later put on artificial respiration, the baby died.