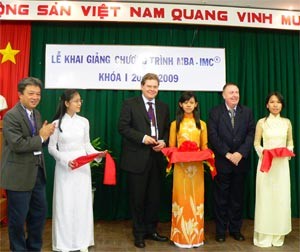 Vice Rector of HCM University of Technology Nguyen Thanh Son (L), Professor R-Dieter Reineke (C) and Consul General of Germany Heinz-Peter Seidel (R) cut ribbon to officially open the course. (Photo:TK)
The Ho Chi Minh City University of Technology (HCMUT) yesterday officially began its MBA program on International Management Consulting (IMC). The first program of its kind in Viet Nam, it was created in cooperation with the Ludwigshafen University of Applied Sciences, a public university in Germany.
27 students have enrolled in the first class of which 50% are undertaking management positions in large companies. The second class will start this October, five months earlier than expected due to a high volume of applicants.
Mr. Heinz-Peter Seidel, the Consul General of Germany to Ho Chi Minh City, attended the opening ceremony and expressed his belief that Germany will create a useful information portal for Viet Nam's consulting industry to access global trends, facilitating the country's integration into the global economy and thereby enhancing its competitiveness.
The International Management Consulting (IMC) program is a professional part-time course of studies held in Ho Chi Minh City, which leads to the internationally recognized MBA degree. Topics covered by the course, based on principles of business studies and economics, are adjusted to the field of management consulting.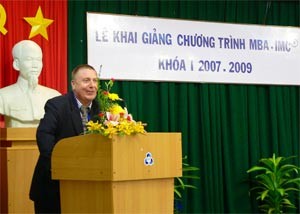 Mr. Heinz-Peter Seidel, the Consul General of Germany to Ho Chi Minh City, speaks at the opening ceremony. (Photo:TK)
According to Professor R-Dieter Reineke, Head of the Ludwigshafen University's Institute for International Management Consulting, the acquisition and extension of substantiated theoretical knowledge and methods of management consulting backed up by case studies, are of paramount importance. The interdisciplinary approach also represents an essential feature of management consulting.
The MBA-IMC is internationally accredited by the Foundation for International Business Administration Accreditation (FIBAA), an officially recognized accreditation organization for German-speaking countries. The standards of FIBAA are in line with those of other large Anglo-American accreditation organizations and are sponsored by the German industrial sector.
MBA-IMC students have the option to work and study in Germany during their second year, joining the MBA-IMC course in Ludwigshafen, or studying selected modules in other countries where the MBA-IMC is delivered. The program is currently offered in Germany, India and Switzerland.
Related links: