Delegates at a conference on October 29 in Ho Chi Minh City suggested mobilizing more capital from the public to build and upgrade schools besides other measures to involve the public in educational development.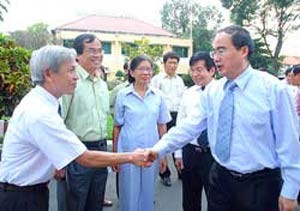 Deputy Prime Minister Nguyen Thien Nhan talks with delegates on the sideline of the conference.
At the conference themed "Socializing Education and Training", Ngo Van Tan, education chief of the city's district 6, proposed extending maturity dates for private investors who have offered loans to education projects.
This, he hoped, would make the public feel more secured and encouraged in their investment. .
Private investors are always enthusiastic, which makes any project they participate in more effective, delegate pointed out.
In 2003 the Rang Dong Nursery in the district loaned from the public nearly VND11 billion for upgrade and the project concluded only one year later. The school has now met national standards.
In contrast, a similar project which used state funds started four years ago but even by now, its paperwork procedures have not been complete, delegates elaborated.
The city Department of Education suggested raising the public involvement ratio at kindergartens by 2010 to 60 percent from the current 53.4 percent, nurseries to 50 percent from 40.8, primary schools to 5 percent from 4.1, junior high schools to 10 percent from 9.4 and senior high schools from 38.3 percent to 40 percent.
HCMC now has some projects which aim to loan a total VND300 billion from the public to upgrade and build schools.
Another method to enhance pubic participation in education development is granting private schools due treatment and expanding the sector.
Anyway, they said private schools have more leeway to determine their own tuition fees and thus, more sources for development while state schools have to conform to strict government-dictated ceiling rates.
Raising salaries for teachers is another method.
However, deputy Prime Minister cum education minister Nguyen Thien Nhan told the conference the goverment is to bear the most responsibility and that over 93 percent of expenditure at state schools is covered by the government while tuition fees from the public only contribute 6.8 percent.
Mr. Nhan added he is planning to reduce state expenditure on tertiary education and focuses on high schools. College students can join in various soft loan programs to finance their study.
"We have to launch a movement to encourage the public to involve in building schools, to raise funds, even from foreign sources", said Vice Chairwoman of the HCMC People's Committee Nguyen Thi Thu Ha.