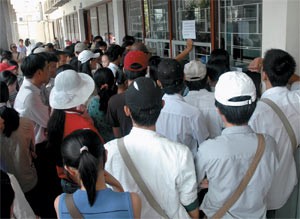 Students are applying procedure for the university entrance exams
Lots of preparatory work have been done for students at the coming university and college entrance exams.
The Viet Nam National University – Ho Chi Minh City (VNU-HCMC) this year provides up to 180,000 exam papers, which cover half of the amount for all schools in HCMC.

It is the first year that multiple choice test is conducted, "yet, everything is ready for the higher education admission test", says Mr. Nguyen Tan Phat, Chairman of the VNU-HCMC Entrance Exam Council.
A vice rector of The HCMC University of Agriculture and Forestry said that over 3,000 invigilators were summoned to assist nearly 51,000 examinees in 44 places during the examination periods.
The Viet Nam Railway Corporation has opened more routes and offered a discount of 10 percent for every examinee with one accompanied person from now to October, 2006. The Eastern Coach Station has got ready with up to 200 spare buses, trying to avoid the shortage of public transport during the exams.
The VNU promises to provide accommodations at low cost for up to 3,000 examinees during the exam periods. Reportedly, over 700 places have been registered so far, and there are over 11,000 vacant rooms left.
The HCMC Student Assistance Center agrees to provide free meals for examinees and volunteers. Non-city examinees will receive the assistance and guidance from around 20 volunteers manning every bus and coach stations.