At 1 a.m., 180 summer campers are rousted from bed for a "Night Operation."
Deep in the mangrove forests of Can Gio District, 50 kilometers south of Ho Chi Minh City's downtown, the campers do their best to complete a scavenger hunt. But this hunt has a twist: all the clues are in English.
Foreign language training is a focus at Sky 2009, a weekend summer retreat for 16-25 year-olds held by the Ho Chi Minh City Youth Union's International Youth Club.
The scavenger hunt is also special in that the campers must use English the whole time they play. If a player breaks the rule, their team has to start again from the beginning.
"The game asks them to problem solve while also focusing on their [English] vocabularies," says club member and camp counselor The Hien. He said it was the best way to familiarize students with using the language.
Most students in Vietnam now study English for at least a decade, but rarely have the chance to practice the skills in real life situations.
Hien keeps an eye on the competition while camper Nhu Le struggles to solve one of the hunt's clues. When she figures it out, she suddenly shouts Tim ra roi! ("I got it!") in Vietnamese. Her group then has to restart back at the beginning.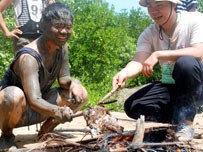 A camper at Sky 2009 grills a fish he caught while mud fishing in a Can Gio District mangrove forest.
A moment later another girl accidently steps on a mangrove fruit and shouts Ma oi! ("Oh, mom!"), forgetting to use English. Her group is also sent back to the starting point.
Student Thuy An from Vietnam National University in HCMC said using English was sometimes difficult and even "less exciting" than playing the games normally, but she also said it was good practice.
"This is a chance for us to practice our English so that foreigners can understand us," she said. "I used to think it was enough to study English well, but now I realize life skills are more important. It's good to speak English, but it's how we speak that matters."
Modern life lament
Camper Quoc Dung, 16, says English is just one of the skills kids learn at camp. He says campers learn important adaptation and improvisation skills in exercises such as the river crossing, in which they have to cross a river without getting their belongings wet. He says the most challenging part of the exercise is pulling those who can't swim across the water with a rope.
"Modern life has made us miss out on too many skills," Dung said.
The Sky 2009 is the fifth English-based summer camp held by the International Youth Club since 2007.
On Thursday, the club took 41 youths off to Singapore for another five-day retreat for sightseeing and exchanges with local students. The trip was organized in coordination with the Ship for Southeast Asian Youth Program (SSEAYP) Singapore.