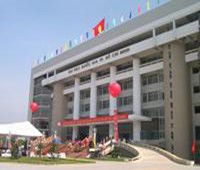 Viet Nam German University in VN
SGGP speaks with the Minister President of German Federal State of Hessen, Mr Roland Koch, who headed a delegation to Viet Nam last week and attended the opening ceremony of the Viet Nam-German University in Ho Chi Minh City.
Hessen and Viet Nam have had a very strong relationship. Over last 15 years, the Ministry of Science and Art of Hessen state has awarded many scholarships for Vietnamese students. Since 2008, the number of scholarships has increased from 110 to 150. With the opening of the new VietNam-German University, what are your expectations?
The Vietnamese-German University will combine the strength of German Higher Education with Vietnamese demands. By this I mean the exchange in the fields of research and teaching will be strengthened as will the training of highly qualified professionals in the growing market of Vietnam. The State of Hessen thus makes a vital contribution towards connecting foreign-science policy and foreign-trade policy. And last but not least internationalization of German higher education will be supported.
As many as 2000 Vietnamese students will be enrolled for the 2009-2010 academic year; how would you evaluate the training quality?
In the long run the Vietnamese-German University should expand to 2.000 places to study. The standards of examinations are orientated to those of German universities. Beside specialized knowledge in the respective areas of studies the capability of problem-solving reasoning is, for example, in great demand. Moreover, when taking up studies at the Vietnamese-German University, a good command of English is expected as well as general knowledge according to the Vietnamese National Entrance Exam.
Over 100 Vietnamese people are living in Hessen State. What is your impression of Vietnamese culture?
We hope that we are able to welcome more Vietnamese people in the German State of Hessen in the future! Hessen and the city of Frankfurt are famous for their internationality. People from more than 195 countries feel at home in Hessen and make the state economically, socially and culturally one of the most vibrant places for the exchange of ideas. Therefore we are looking forward to welcoming more Vietnamese citizens in Hessen in the future, to learn more about Vietnamese culture, which is held in high esteem in Hessen.
After education, will Hessen invest in other fields in HCMC in particular and Viet Nam in general such as trade, industry, banking or finance?
There are already Hessian firms with subsidiary companies in Vietnam, such as B.Braun Hanoi and Messer Vietnam Industrial Gas Co. Ltd. I am accompanied by a high-ranking delegation of politics and science, but also of trade and industry and banking and finance, to learn more about the Vietnamese people and their culture, but also to gather information about the economy and possibilities for investments in Vietnam. Since Vietnam joined the World Trade Organization in 2007, it has become one of the most promising investment locations for Hessian firms in Asia.
Many foreign banks have been set up in Viet Nam recent years, what are your thoughts about this?
Hessen has some experience as a "financial centre", with the city of Frankfurt being the leading financial centre in continental Europe, with over 300 banks from over 50 countries and headquarters of the German Federal Bank, the European Central Bank and the Frankfurt Stock Exchange. Hessen has always benefited from the presence of many foreign banks. Conversely, we hope that Vietnam will also benefit from the presence of foreign banks in the process of further developing the financial sector in Vietnam. Also, for further intensification of foreign investment in Vietnam a strengthening of the banking sector will be an important element.
Thank you very much.