After the Ministry of Education and Training announced a reform of high school graduation exam which may be applicable to 2014's exam, educationists, teachers and students voiced their concern about the issue.

Concern over decision to dispense foreign language exam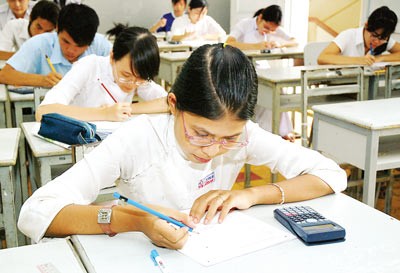 Student of Bui Thi Xuan High School are doing tests (Photo:SGGP)
Vietnamese students in particular and Vietnamese people in general are weak at foreign language; hence, if the ministry dispenses the foreign language exam, a large number of high school students especially these in countryside areas will make light of the subject.

Consequently, foreign language weakness becomes worse.

Le Van Ngo, director of the Department of Education and Training in the central province of Nghe An, said that he supports the reform of high school exam but he does not want to abolish foreign language tests as foreign language is a key to help students access to knowledge in the world.

Teach Nguyen Thi Huong of Quynh Luu 3 High School in Nghe An Province  said that the ministry should not discard the foreign language exam. Teacher Huong added that foreign language tests can not cover four basic skills including listening, speaking, reading and writing.
Deputy Education Minister Nguyen Vinh Hien also said the current foreign language test can't assess students' ability; thus the ministry wants to discontinue the  ineffective exam. However, the public said the deputy minister or the ministry is acknowledging the failure of teaching and learning foreign language in school. Accordingly, the education sector should critically review the matter.

Applicable in 2014 or not?

The possible application of the reform of high school graduation exam could be this year which raised concerns among departments of education and training across the country. As per the ministry's plan, on January 2, it will announce the draft plan and it will collect public view in 3 months. In March or April, the ministry will announce official compulsory subjects for the important exam.

However, people think that it is a hasty decision. Ho Van Thong, director of the Department of Education and Training in the Mekong delta province of Dong Thap, said that the ministry should early announce the reform in order for student in the country to be well-prepare.

Some people think that it needs a well-prepared road map for the high graduation exam or else it will cause perplexity for student. The Ministry should well reconsider the matter.

Whether excellent students will enjoy high school exam exemption?

One of concern-raising information that the ministry proposed is that around 20 percent of excellent students can enjoy high school exam exemption because according to Deputy Education Minister, such students will certainly pass the exam.

Some people agreed with his idea, but others said that it will be unfair.

Nguyen Tung Lam, chairman of the Association of Education Psychology in Hanoi said that the ministry has contemplated abandoning college admission exam; hence, it should have a high school exam on which universities base on to select students.

In conclusion, there have been so many views of the discontinuance of the high school graduation exam that the ministry should take account of when making decision.