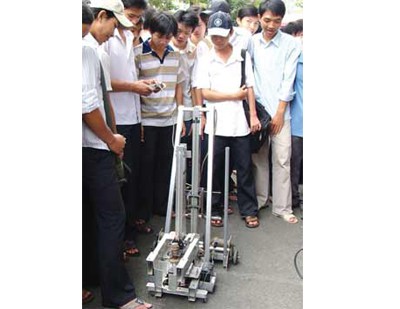 High school pupils on the field trip at the University of Technical Education. (Photo: SGGP)
Thousands of high school pupils have had field trips for open days at universities in Ho Chi Minh City, which will help them to choose careers and universities before the entrance test season in July.
Pupils from Tien Giang Province's Cho Gao High School Wednesday visited the workshops and laboratories of Ho Chi Minh City University of Technology, the University of Economics and the Banking University.
More than 600 students of HCM City's Thu Duc High School visited Nong Lam University (NLU) (formerly the University of Agriculture and Forestry) in the beginning of November last year.
More than 3,000 students from 25 schools in the city and neighboring provinces had the chance to learn about environment studies, as well as the career training at the University of Technical Education on its open day, held last December 14.
Some other universities have also opened their gates to visitors.
A principal from a major university said that the universities spread careers guidance widely because they want outstanding students to apply to their schools.
Tran Dinh Ly, manager of the NLU's Center for Student Assistance and Company Relations, said that field trips are necessary for high school pupils in order to help them select suitable careers.
They have carefully examined each career option, especially those involving their homeland's specific economy. Some have formed an occupational interest through the field trips, he said.
The field trips not only give pupils an understanding about careers but also the inspiration to make decisions about their futures, he added.
Thanh Tung, a twelfth grade pupil, said that the visit gave him the opportunity to learn about many careers and encouraged him to make his choice.
University officials said that they have never seen so many pupils come to their schools and so early.
The deputy principal of Cho Gao High School, Nguyen Phuc Vien, said that it organized the field trip itself because it was afraid that students would not have enough time to learn about the universities as their careers guidance programs are usually implemented late.
With improved open days, a lack of information will, hopefully, no longer lead pupils to choosing the wrong career paths.