Several high schools are conducting career counseling for 12th grade students in universities and colleges to help students make suitable career choices before their entrance exams.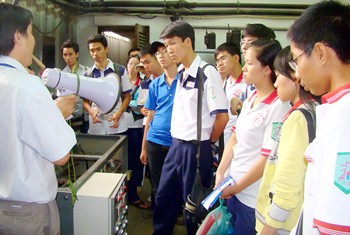 High school students learning about refrigeration mechanics at the HCMC University of Technical Education on January 16 (Photo: SGGP)
Since early January, universities and colleges in Ho Chi Minh City have received thousands of high school students from the Mekong Delta and the southern eastern provinces.
On January 16, the University of Technical Education HCMC received 4,000 students and about 70 teachers who wished to know more about the various curriculums and other activities of the university.
The university faculty counseled students about training goals and job opportunities after graduation from university. Many faculty members also organized exchange programs between their students and other high school students.
High school student Tran Anh Tuan from Dong Nai Province was surprised after talking to students at the Automation Faculty that the study classes there were not as hard as he had thought.
Not only students but teachers as well, wished to learn more about recruitment and training programs in universities and colleges.
More than 70 teachers from 40 high schools gathered at the lecture hall of the technical education university to learn about training regulations, study methods and career prospects in each curriculum.
Pham Quoc Thang, lecturer from the Pham Van Dong High School in the central province of Quang Ngai said that he wanted to collect information for students back home who were unable to come to the city.
Teacher Dinh Luan Minh Duc has on several occasions taken students from Can Thanh High School in Can Gio District to the HCMC center and has found this interchange an effective way of vocational guidance.
Tran Dinh Ly from the HCMC University of Agriculture and Forestry said by taking students to visit universities, high schools have introduced a very direct and practical method to guide students for their future careers.
However, Nguyen Tien Dung, head of the training department of the University of Technical Education HCMC believed that students from high schools should be taken to more universities and colleges for them to have a broader comprehensive view before they make their decisions.