Appropriate policies are needed to create effective laws on higher education, said Professor Pham Phu at a seminar on December 22 attended by education management authorities, experts, scholars and representatives of the National Assembly Office.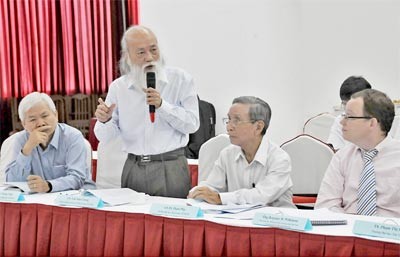 Professor Van Nhu Cuong speaks at a seminar on higher education on December 22 (Photo: SGGP)
Prof. Phu said, "Deputy Minister Pham Gia Khiem ordered relevant agencies to draft and make clear mechanisms of for-profit education and nonprofit education in 2005. But to date, no mechanism has been formed."
 
"The line between public and private schools is not as significant as determining a for-profit or nonprofit school," he added.
 
He addressed complaints that there are too many newly established universities, saying that it's important to look at the current increase of students.
 
The policy of establishing more universities is good, as local universities have contributed to making education more accessible. More universities should be established and there is nothing wrong with the increase of students, Prof. Phu said.
 
It's not good, however, that agencies have slackened their management of universities, allowing unqualified universities to enroll and educate students, he added.
 
"I was really surprised to learn that no one is in charge of the educational economy in Vietnam. We completely lack a basis of reasoning for this important issue," he said.
 
Dr. Cao Dac Hien of the Ho Chi Minh City University of Industry said, "We need to define clearly that 'learners' of higher education are customers, and customers have the right to choose 'products'."
 
Therefore, to attract learners, the higher education sector has to improve its quality, he added.
 
Tran Thi Ha, head of the Ministry of Education and Training's Higher Education Department, said 13 of 22 universities established from 2006 to 2009 have yet to be built and have to rent facilities in the meantime.
 
The establishment of universities has faced difficulties, especially in space clearance and applying for construction licenses, because localities haven't supported or prioritized it, she said. 
 
Agreeing with Ms. Ha, former Minister of Education and Training Professor Tran Hong Quan said, "I recall that the Government issued a decree on exempting tax, allocating space and even building facilities for universities, but I don't know why localities have yet to implement it."
 
Prof. Quan hoped that the National Assembly Office, NA deputies and relevant agencies would report this issue to the NA.