Of late, more and more Vietnamese publishing houses are grabbing young readers market with their focus on historical topics via comics and cartoons, making it interesting, entertaining as well as educational for children.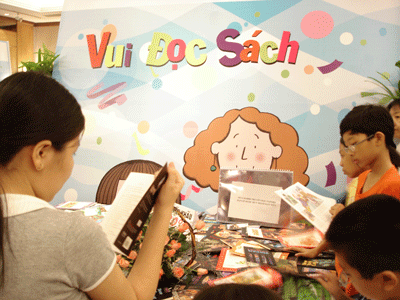 Historical comic books are attracting more and more young readers in Vietnam (Photo: N. Tran)
Their focus on historical topics as theme has won them a bigger market share in Vietnam than their foreign counterparts.
Consider one of Vietnam's most flourishing private publishers of children's books, the Phan Thi Educational Media and Entertainment Company, which has brought out a successful series like 'Than Dong Dat Viet' (Vietnamese Prodigy), 'Ngay Xua Ngay Xua' (Once upon a time), 'Truyen Hay Su Viet' (Interesting stories from Vietnamese history), and 'Danh Tac Viet Nam' (Vietnam's masterpieces).
 
This summer, the company will release more comic books in the series 'Danh Tac Viet Nam', which will include 'Chiec Luoc Nga' (The Ivory Comb), 'Chi Pheo', 'Chi Dau', and 'Giong To' (The Storm). These will aid young students to understand more thoroughly the original masterpieces in their academic year.
Kim Dong Publisher, a leader in children's books for 55 years, will have the most number of historical titles this summer. They are planning to reprint their most popular historical books such as 'Dao Hoang' (Desert Island), 'Nha Chu' (Chu Dynasty), and 'Chuyen No Than' (Story of the Magical Bow) by To Hoai; 'Tren Song Truyen Hich' (Transmitting Orders on the River), 'Ben Bo Thien Mac' (On the Thien Mac River), and 'Trang Nuoc Chuong Duong' (Chuong Duong River on a Full Moon Night) by Ha An; 'La Co Theu Sau Chu Vang' (Flag with 6 Gold Letters) by Nguyen Huy Tuong; 'Sao Khue Lap Lanh' (Twinkling Morning Star) by Nguyen Duc Hien; 'Sung Ruou The' (Wine of Oath in a Horn) by Nghiem Da Van.
During the summer, Kim Dong Publisher will also introduce new historical comic titles in two series 'Bac Ho Song Mai' (Uncle Ho forever) and 'Cac Vi Vua Hien' (Benevolent Kings).
Historical and cultural topics have gradually become favourite choices of not only parents but also children. Comments on the website www.webtretho.com, a popular forum for parents in Vietnam, shows a frustration in adults in selecting suitable books for their children, since they are not sure which titles have violent or sexual content.
Therefore, books about history and culture are always warmly welcomed, as they are both entertaining as well as educational.
Moreover, with a careful investment in their illustrations and content, publishers are now able to attract more young readers to buy historical comics. With books that need more accuracy such as 'Cac Vi Vua Hien', they refer to the well-known 'Dai Viet Su Ky Toan Thu' (Complete History of Vietnam) published in 1998 by Social Sciences Publishing House. Meanwhile, other books that can be adapted for young readers are written by authors themselves.
Nguyen Quang Sang, author of 'Chiec Luoc Nga', commented that the comic version of his work had many new details, yet he did not distort the real message he needed to convey. On the contrary, his interpretation was far livelier and clearer, which would leave a strong impression on readers.
The publishing of more historical titles these days has contributed a great deal to filling the knowledge gap in young students in both the fields of history and literature, normally considered boring subjects at school.