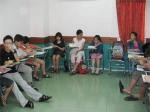 Learning and teaching English in Viet Nam
TESOL-HCMC's aim is to help teachers update the advanced factors of teaching English including the programs, curricula, methodology and evaluation to improve the quality of teaching and learning English in Viet Nam.
The center will also regularly hold conferences, seminars and training courses with the participation of many leading experts of the world and region in teaching English.
The experts, who have many opportunities to approach the most modern and advanced teaching techniques, will discuss and exchange with Vietnamese teachers and learners about their experience and methodology of teaching English, said a member of the TESOL-HCMC.
Reportedly, TESOL-HCMC is the first public association of its bind in Viet Nam.
TESOL is an international certificate awarded to qualified teachers of English all over the world.