Vietnam ranks ninth in the top 10 places of origin for international students in the United States during the 2009/10 academic year, the Institute of International Education' Open Doors report says Tuesday.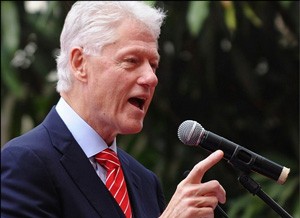 Former US President Bill Clinton gives a speech at the Foreign Trade University in Hanoi on Nov. 14, 2010 (AFP Photo)

The top ten in order are China, India, South Korea, Canada, Taiwan, Japan, Saudi Arabia, Mexico, Vietnam and Turkey, says the report, which is published annually by the IIE with support from the US Department of State's Bureau of Educational and Cultural Affairs.
The number of Vietnamese students in the US during the academic year is 13,112, up 2% from the previous year, says the report, which was released from Washington, DC on November 15.
"Vietnam's 2% increase was relatively small compared to the more than 45% increases it had shown in the previous two years," the survey writes.
IIE says the total foreign student numbers in 2009/10 increased by 3% over the prior year, making a record 690,923. It adds that the global economic downturn impacted many sending countries in 2009/10.

The American Ambassador to Vietnam, Michael W. Michalak, said when he took his Hanoi posting in 2007 that promoting US higher education was among his priorities.
Open Doors 2010 says the University of Southern California is the leading host institution with 7,987 international students for the ninth year in a row. California remains the leading host state for international students (94,279, up 1%).
Business and Management remains the most popular field of study for international students in the US, increasing by 5% and comprising 21% of the total, followed by Engineering with a 7% increase and comprising 18% of the total, according to the report. Math and Computer Science also increased significantly in 2009/10, up 8% from the prior year. Intensive English Language, which declined last year by 1%, saw a 9% further decline in enrollments.
International students contribute nearly US$20 billion to the US economy, through their expenditures on tuition and living expenses, IIE quoted the US Department of Commerce.