2007 marks the first time that Viet Nam will be the host of the International Mathematical Olympiad, a competition for mathematically gifted high school students from all over the world.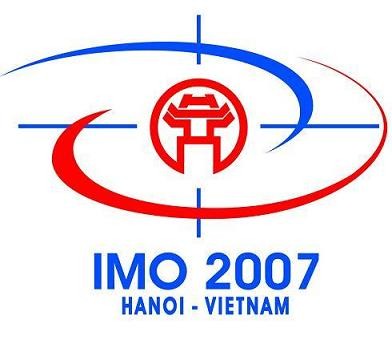 The logo of IMO2007
Around 800 candidates from 100 nations and territories will attend the 48th International Mathematical Olympiad (IMO2007) in Viet Nam from 19 July to 31 July 2007 in Ha Noi.
Vietnamese Deputy Minister of Ministry of Education and Training, Dr Tran Van Nhung, head of the IMO2007 organization board, said that Viet Nam made a good impression with international friends when Vietnamese students won the first and two second prizes since the first time it sent students to IMO in 1974.
Vietnamese students always won prizes and they were listed as one of the strongest teams in thirty-three years. Educational experts from Singapore and Malaysia sometimes come to Viet Nam to learn about math training courses and methods.
Six students will participate in IMO2007 including Nguyen Xuan Chuong from the northern province of Vinh Phuc, Le Ngoc Son from Bac Giang province, Pham Thanh Thai from Hai Duong province, Dang Ngoc Thanh from the central province of Quang Binh, and Do Xuan Bach and Pham Duy Tung both from Ha Noi-based Vietnam national University.
It took Viet Nam ten years to become a host nation of IMO 2007.
In addition to the provision of accommodation and meals for contestants, the organization board has faced difficulty in preparing examination questions as well as marking papers.
A 70-strong examination jury including 30 Viet kieu (overseas Vietnamese) has been set up.