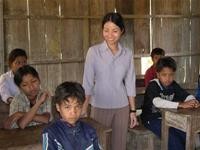 Favorable conditions should be offered to teachers working in mountainous areas.
According to recently-issued Decree 61/2006/ND-CP, all educational managers and teachers in specially difficult areas will enjoy an attraction allowance, which is 70 percent of their salaries, together with excessive position allowance and work-duration allowance.
When attending training courses on pedagogy, foreign languages or professional subjects, they will be financed by the State to pay for tuition, study documents, as well as accomodation and movement during the course.
Also, when being transferred to such areas, each of them will get an allowance of VND4 million. The people's committees of the local districts are responsible for receiving, supplying allowances and arranging accommodation for them.