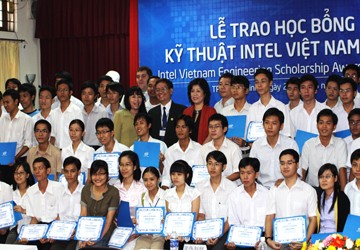 (File) Intel grants scholarships to 49 students on May 29, 2009 at Ho Chi Minh City University of Technology.
Intel Products Vietnam Ltd. Co. announced January 11 a scholarship program starting next July for third- and fourth-year technology students.
Together with the US' Portland University, it will grant scholarships to 20-25 students from the University of Technology, International University, University of Education and Techniques, HCM City University of Science, and Danang University of Technology, among others.
After graduation in June 2012, the students will return to Vietnam and work for the company in Ho Chi Minh City.
Candidates can register at http://www.pdx.edu/cecs/intel-vietnam-study-abroad-program from January 15 to February 15.
Intel's US$1 billion chip plant in the city is expected to open in the second quarter of this year.