Initiated from the creative ideas of teachers, lessons are connected with projects and themes which attach lessons with the reality of living.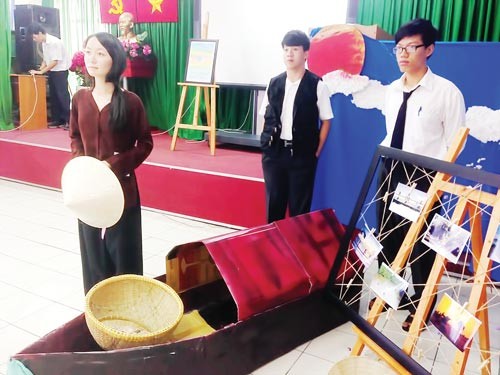 Students of Luong The Vinh Senior High School perform the drama whose content is literature work (Photo : SGGP)
Senior high school teachers applied new teaching methodologies to offer interesting studying hours helpings students to learn real experiences and develop their own skills.

To draw attention of students to his lesson of Literature, teacher of class 12A5 of Luong The Vinh Senior High School in district 1 initiated the project Van va Doi ( Literature and Life).
Students will participate in a drama whose content based on author Nguyen Minh Chau's literary work Chiec Thuyen Ngoai Xa (Offshore Boat).

Teachers who viewed the drama were surprised by students' professional performance and creativeness.

After one month from preparation to performance, teachers and students both worked hard on the drama but it has seen the effectiveness of  new learning style.

Teacher Le Minh Tan said that his students were very eager to participate in the drama and the dram impressed students in the school. Student Le Thi Hai Dang said that through the drama, students can grasp the literature work thoroughly.
Similarly, student Vu Mai Huong also said that she remembered the work deeply than before. In addition, students feel more confident to deliver their presentation in front of the classmates.

Teach Thuy Hang from Luong The Vinh Senior High School said that after viewing the performance of students, teachers realized that their students capture the knowledge more thoroughly and connect with real living and understand more traditional values which should be maintained and developed.

Other senior high schools such as DInh Thien Ly, Bui Thi Xuan, Tran Dai Nghia, Giong Ong To went suit. Students of Le Quy Don Senior High School  also performed drama from literature, history, English lessons.