The fashion industry's latest achievements as well as brand new collections are being introduced at the Vietnam International Fashion Fair (VIFF) 2015, which opened in Ho Chi Minh City on September 18.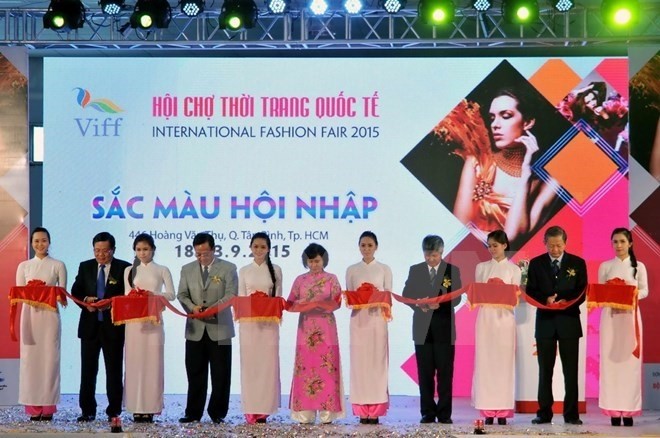 Delegates cut the ribbon to open the fair (Photo: VNA)
The fair, jointly held by the Vietnam Textile and Apparel Association (VITAS) and Vietnam National Textile and Garment Group (Vinatex), is part of the activities in the national trade promotion programme.
Featuring nearly 200 booths, the event draws the participation of famous textile businesses such as Viet Tien, Duc Giang, Nha Be, May 10, Hoa Tho, Viet Thang and Dong Xuan together, with a line-up of designers and small and medium garment providers.
Speaking at the opening ceremony, Deputy Minister of Industry and Trade Ho Thi Kim Thoa highlighted garment as a leading export of Vietnam, adding that the sector has made significant progress with a raft of highly-competitive and prestigious brands.
She noted that enterprises need to give a push to the sector's development by following the Government's strategy and taking advantages of free trade deals to build brands favoured in both domestic and foreign markets.
According to VITAS Chairman Vu Duc Giang, the annual fair aims to introduce garment production and export capacity of Vietnamese enterprises to domestic and international customers while linking garment material providers, designers and producers.
Entertainment programmes and fashion shows are scheduled during the event, which will run until September 25.